November 2019 Meeting
November 21, 2019 @ 6:00 pm

-

9:00 pm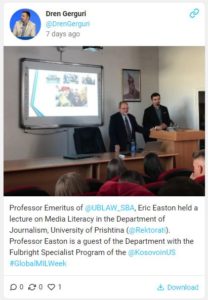 Our next meeting is on Thursday, November 21, 2019. Wrangler & Prof. Emeritus of Law Eric Easton will discuss his recent trip to Kosovo as part of the Fullbright Specialist Program.
Last month, Prof. Easton spent two weeks in Kosovo where he was a guest lecturer in the Journalism Department of the University of Prishtina. His talk focused on media literacy as well as the changes in journalism brought about by the digital revolution, including "fake news." He also appeared on the morning show of Kosovo tv channel T7 as part of the Global Media and Information Literacy Week. (see for yourselves: https://www.youtube.com/watch?v=DWj7mDOX3BU&app=desktop).
Registration for dinner will close on Monday, November 18, 2019 @ 5:00 pm.
***Please indicate any food restrictions. To add a guest, repeat the registration process.
To pay for guests, late cancels, and/or dues: go to https://wranglerslawclub.com/, on the right-hand side under "Pay Bill" and select the appropriate "Buy Now" option.
Thank you!
For questions contact poohbah@wranglerslawclub.com.